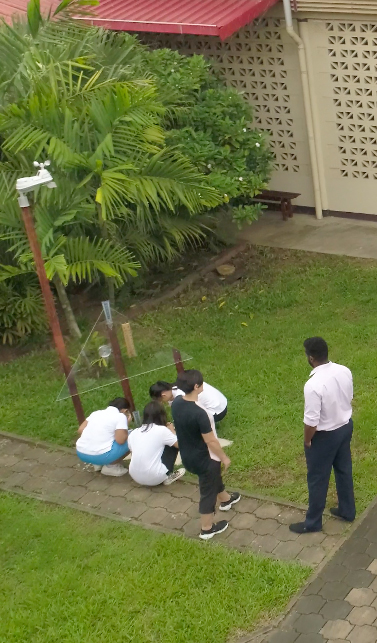 On completion of primary school in Grade 6, Academy scholars write the Caribbean Primary Exit Assessment (CPEA) before entering Secondary School. The CPEA is a Caribbean regional international external evaluation of the literacies, competencies and numeracy skills of primary students before entering the secondary level.
The program in secondary school covers a spectrum of disciplines:
Mathematics, English, History/Geography, Physics, Integrated Science, Agricultural Science, Fine Art, Accounting, Physical Education, Arts & Crafts, Literatures in English, Social Studies, Chemistry, Physical Science, Shakespeare's World, Music (theory & practice), Living Values, Yoga & Tai Chi, Literature (in translation), Philosophy, Biology, Earth Science, Technical Drawing, Anatomy and Physiology, Economics – Business studies, Foreign Languages, Environmental Science, Home Economics, Food & Nutrition.
As the student progresses through the Academy, 'Interdisciplinarity' is a fundamental in the teaching methodology in the development of critical thinking skills.
The following are general requirements for secondary students: English, Math, Physical Science, Physical Education, Literature, Social Science, Biology, Living Values, Philosophy.
Student in secondary school are prepared to write: Caribbean Secondary Education Certificate (CSEC), Global Assessment Certificate (GAC), and Caribbean Advanced Proficiency Examination (CAPE)
AlphaMax Academy Diplomas are directly tied to the successful completion of the Academy's secondary school program plus one or more of the aforementioned international examinations.

Click for more info about CSEC, GAC or CAPE

CSEC GAC CAPE